last updated June 2022

,
David B. Beckwith
CHRONICLES OF SHERLOCK HOLMES VOLUME VI
Published ???? T.B.A.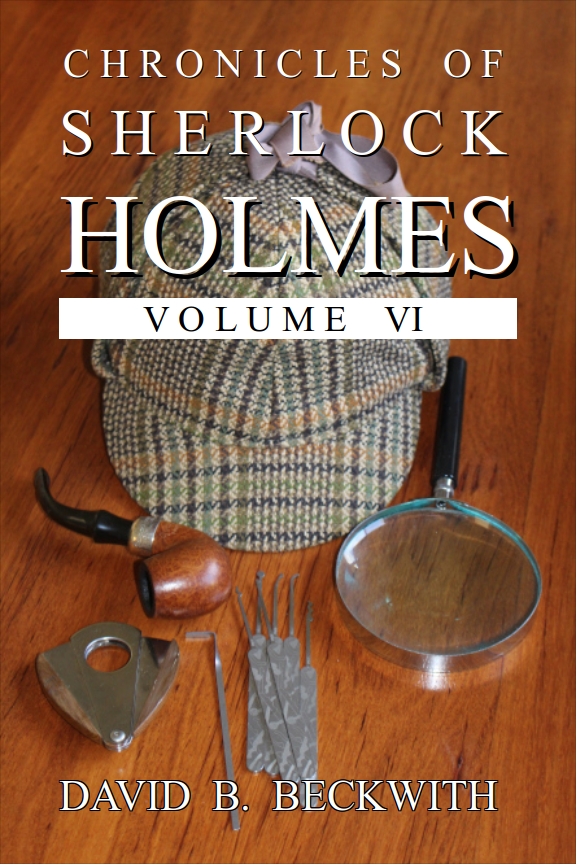 Available as paperback and eBook (both .epub & .mobi)





1.





The Case of the Trip to Brighton

Holmmes & Watson follow the 1896 Emancipation Run, which turns out to
be not quite all legitimate. In Brighton they become involved in a most
mysterious murder on a train that runs on the sea! more




2.





The Admiralty Safe

One of the few tales to be told of Holmes's activities after leaving Baker
Street. There's a War coming, and Holmes does not just keep bees! in 1927
he tells of cracking the safe in Admiralty House 22 years previously. more




3.






The Case of the Fenians

Inspector Lestrade involves Holmes & Watson with a lead roof theft and
a brutal torturing to death in a churchyard. But Lestrade is relieved of the
case and Special Branch take over when the dead man is discovered
to be an undercover Special Branch agent. more




4.




Title To Be Announced

Details to be announced. more




5.




Title To Be Announced

Details to be Announced. more


Bollée Voiturette - winner 1896 Emancipation Run
Radio Fremantle Interview - Bob Edwards - T.B.A.
BACK
____________________________________________________________________________________
This page was created by the author using Mint LINUX (c) 2022 David B. Beckwith.